Partners In Our Community: BIG Recipient JTW Properties, Inc.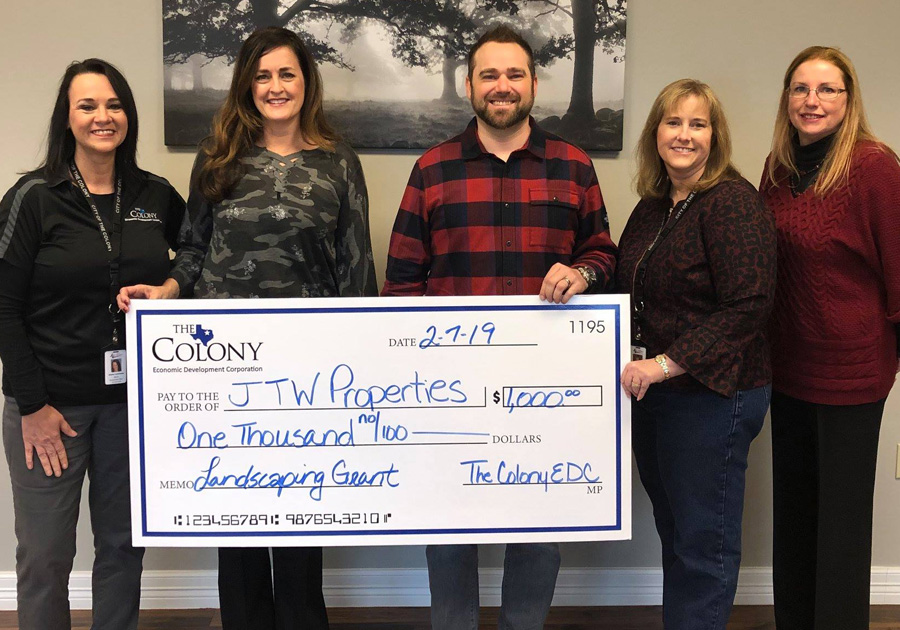 The Colony Economic Development Corporation is proud to announce our latest recipient of our Business Improvement Grant (BIG) given to JTW, Properties Inc.
This grant is given for landscaping improvements to the building located at 3700 Standridge Drive The Colony, Texas.
Mr. Jesse Woskowicz bought the property in 2013. Since then there have been many upgrades to the property. The building was built in 2001. Mr. Woskowicz founded AmeriDream Mortgage Group, LLC in 2006 and currently serves as the company's President. AmeriDream Mortgage is a mid-size residential mortgage banker / brokerage firm. AmeriDream Mortgage is also a tenant in the building. 3700 Standridge currently houses 12 different businesses. The location also has two spaces available for lease. If you are interested in securing a space for your business, please call 469-362-4700.
Mr. Woskowicz and his team believe in giving back to the community and are passionate about working with Habitat for Humanity, Lewisville Independent School District, and other ISD's. Currently, they are working in partnership with LISD's "Back to School" program helping to support underserved school needs. "Supporting our local communities is extremely important to us. We will continue to increase our support in the coming years," stated Mr. Woskowicz.
Testimonial:
"First and foremost, we would like to THANK The Colony for allowing us to take advantage of the $1000 grant program. We appreciate the City's continued support in affording its citizens and business owners the opportunity to grow and further invest in our wonderful City. For a long time, I had wanted to invest in commercial real estate and I knew The Colony was the city I wanted to invest in. The Colony has and continues to offer a multitude of opportunities for both my business and family. We have been part of the community and surrounding community dating back to 2006. The location for our business was / is ideal. As a result, I purchased the building in 2013. JTW Properties, Inc., is thankful and proud to be a part of the city and to further invest in The Colony in the future." – Jesse Woskowicz
http://thecolonyedc.org/wp-content/uploads/2019/02/JTWProperties.jpg
630
900
The Colony
http://thecolonyedc.org/wp-content/uploads/2023/04/25thAnniversary.png
The Colony
2019-02-22 18:54:27
2019-02-26 18:59:21
Partners In Our Community: BIG Recipient JTW Properties, Inc.